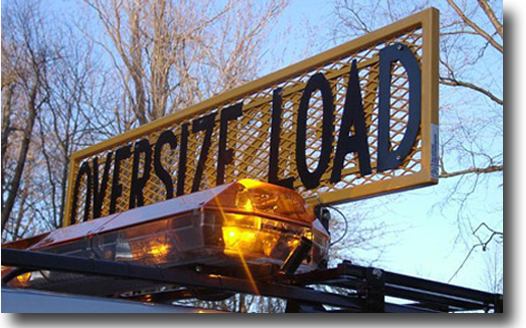 Oversize Load Signs
Blazing Technologies has developed a new line of signs for pilot car operators, trucks and or just about any application that requires a mounted sign. These revolutionary signs are the most durable and best constructed on the market today. The Blazing Technologies Oversize Load Signs have been sold to pilot car drivers throughout the country, to the US Government, US Armed Services, and State Department of Transportations. **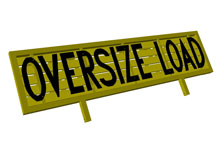 Louver Style Sign - Aluminum Solid Background Sign - Aluminum
New Oversize Load Signs - Released
Blazing Technologies continues to develop new products based on input from the pilot car community. A louvered sign and a solid background sign have just been released. These signs have the same level of quality and attention to detail that you have come to expect from all BTI products - they may not save you as much on fuel as our grated signs, but since you asked for them, we are more than happy to design and build them for you.
Construction
The Steel Oversize Load signs are constructed of laser cut aluminum lettering mounted on the front and rear side of a sheet of stainless steel expanded metal. On the outside of the sign is a completely welded framework of 1 inch steel tubing creating a robust design that will withstand the test of time. The Aluminum Oversize Load signs are built with laser cut aluminum lettering mounted on the front and read side of a sheet of aluminum expanded metal framed within an aluminum tubular framework. Both signs are finished with a safety yellow powder coating that will withstand the elements and keep the sign looking and performing well for years. The lettering was made to be bolted on so that it could be replaced in the future or changed to different verbiage.
Saves on Fuel
The expanded metal (meshing) boasts a 60% open space which means that the material that makes up the majority of the sign is made up of 40% metal. This allows air to flow through the sign and which reduces wind drag on the vehicle thereby saving on fuel.
The sign folds down when not required in order to further reduce wind resistance and increase the mpg rating. The fold down option makes saves from having to remove the sign every time it is not required for a pilot car job.
Most solid background signs whether made of plywood, aluminum or some other material collect the dirt and debris from the road which tends to block the visibility of the yellow background and lettering thereby making the sign very difficult to read. BTI OSL signs allow most of that dirt to pass through the sign helping to increase visibility of the lettering.
Most Importantly
Our products are manufactured in the United States of America through good old American grit and ingenuity. All Steel and aluminum is bought direct from North American sources to ensure the highest quality. Outsourcing materials and fabrication work from overseas in order to make a quick profit is simply not a consideration for us.
**Blazing Technologies Inc. makes no claim, either written or implied, as to whether it's signs meet regulatory standards for any particular State or Locality. State and Local codes must be consulted in order to make that determination.
Get Answers to your questions on the Pilot Car Talks Forum

Join us on facebook